It's Akuma Season – In-depth with Rare Akuma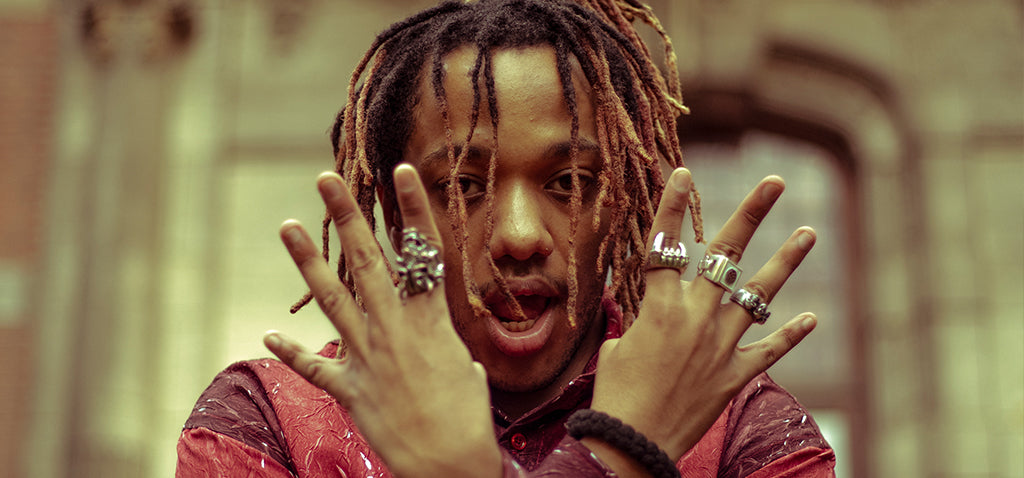 Belgium's most unpredictable rapper is about to drop his debut album.
Usually, people have a particular idea of what a rapper is supposed to sound like. Especially in this age, many expect the well-known combo of obscene lyrics and 808 basslines. Any artist that draws clear inspiration from incredibly diverse sources like hardcore punk or soundtracks automatically puts him or herself in a position that many people frustratingly can't put a label on. Meet Shyheim Newell, better known as Rare Akuma by his fans. This young Antwerp-native ticks all the boxes of the new generation of artists who refuse to play by the rules. He is clearly a rapper, but that doesn't stop him from making rock or instrumental house music. According to an interview for TRIX, Belgium's most prolific rapper of the moment, Zwangere Guy, claimed Rare Akuma is the most exciting artist he has discovered in the last three years. "I can rap", he says, "but Akuma can do everything; Belgium is too small for him because he doesn't make music that sounds like it would come from here". In many ways, he is right, and that has been clear from the very beginning.
Rare Akuma – who took inspiration for his name from the Street Fighter games – first starting uploading instrumental bedroom beats on Soundcloud in 2015. It didn't take long before his productions caught some attention; most of his uploads consistently gathered more than 200.000 listens, an impressive feat for any young beatmaker. In no-time, prominent international rappers like $uicideBoy$ (with who he even did a collab) and XXXtentacion (RIP) were sliding into Akuma's DMs. At the same time, he was still very much under the radar in the Belgian music scene. "Maybe my career would have looked different if I had lived in the USA", he explains. "But in recent years I've come to appreciate the love my local fans have given me".
To be clear, usually, Belgian artists conquer the Belgian market before they get their music out to such a broad international audience. "I didn't mind the relative local anonymity at all, to be honest", Akuma says. "Those days on Soundcloud gave me a platform to work with, and it formed my process as an artist from an early stage already. People are often surprised when they find out I've been in touch with these famous artists, but I've never really thought they were anything other than normal human beings".
Soundcloud was very much the place where you could discover new music or find beats to rap to. Nowadays, the website is only a shell of the influential global peer-to-peer network it once was. Akuma still uploads his productions on there, albeit with much fewer expectations than before. "The only problem I had while gathering a large online following was that it left little room for adapting to new styles. I've transformed into more than just a producer. I rap now too, and this wasn't always easy to understand for some". In any case, Rare Akuma is a much more balanced and developed artist now.
Still, evolving into something more than a beatmaker isn't always understood by people in Belgium either. "I'm often presented as a rapper", he says. "Technically, people aren't wrong when they call me that, because I am one; I'm just many more things at the same time". Even before he started rapping, it was clear Akuma's work leaned towards the heavier sides of hip hop that showed no reluctance to draw inspiration from punk or heavy metal – think artists like Scxrlxrd or Ghostmane. Additionally, Akuma's personal aesthetics match those of rock fans more than those of hip-hop heads. That being said, he doesn't necessarily think of himself as a rocker. "I love the aesthetics and the philosophy, but I've never felt a personal connection to those scenes if I'm honest", he explains. "As a genre, punk and metal have that kind of raving energy I'm looking for, so it only feels natural to let it influence me".
As we're talking about this, it becomes clear Akuma doesn't want us to label him as a rocker-rapper – or as anything in particular. "The thing is, I'm easily bored", he says. "I have to keep moving forward, or I'll get annoyed with myself. I would rather quit than do the same thing over and again. I want to make music for everybody, not just a particular niche scene". That versatility was put to the test recently. On his latest project, the QUARANTINE CARE PACKAGE EP, he combined more conventional rap and hip hop with a surprisingly straightforward house track. "That track came straight from my brains. I felt I wanted it out there, so I did, without overthinking it".
Akuma's boundless curiosity doesn't just apply to music. "It's not like I'm making music every day", he explains. "Sometimes, I spent a week without making anything. I need to be fully inspired when I enter the studio; that's why I rather save up all my inspiration for a while before using it all in one session". On those other days, he draws, writes or designs. Recently, Akuma has been getting more involved in the making of his own videos, co-directing the last couple he has released.
As someone with this kind of energy, Akuma doesn't easily suffer from a writer's block. "I can always create something new, but I realized that I don't necessarily make the best stuff when I churn out new projects. That's why – except that quarantine EP – I only start a new project when I know I have enough inspiration to make it something worthwhile. If there's something I want to make, I won't stop until I do. There's not much that can stop me from my goals".
That attitude is found in the artists Akuma looks up to for inspiration. Perhaps surprisingly, he immediately lists Kanye West as one of his most significant influences, for reasons many people may seem to have become oblivious to nowadays. "Kanye may be a huge megastar, but many forget he changed the rap game. He thought outside the box, crossing so many boundaries in a stale music industry".
On a national level, Akuma returns the favour and praises Zwangere Guy for his powerful attitude towards anything and anyone. "He's not afraid to say what is right, even if that annoys people", he explains. "It may not always be smart, but I admire people in positions like his who say something when it's necessary". This is undoubtedly true, as was the case on the Red Bull Elektropedia Awards 2019, when Zwangere Guy made bold accusations towards the political establishment in one of his numerous acceptance speeches in front of the entire Belgian music industry. It must be said that on the same evening, Akuma struck gold in the Chase Award category for Best New Urban (his speech, however, was much more modest).
Anyone who has ever seen a Rare Akuma live show knows it's not a matter for the faint-hearted. There's excessive moshing going on, and there are always a couple of fans who scream the lyrics along by heart. "I want my crowds to go crazy", he says. "The energy should be going through the roof, that's what I want; it's how I connect with my people". When asked if he never wants to take things down a notch and perform some of his more intimate tracks, he hesitates. "I can be a little softer sometimes, but I'm not comfortable to play on a stage like that at the moment. Maybe I'll do it later; I just don't have the right songs for those moments yet".
Listening to Akuma's 2019 EP, "It'll Be Okay", there's plenty of material that could have well been made by a completely different personality. Tracks like 'Fly Away' or 'Free Xela Outro' (featuring Yung Xela) have a distinct cinematic atmosphere looming throughout the runtime. That doesn't seem to be a coincidence. "In a later stage of my career, I would love to make movie soundtracks", he says.
Being an introvert, the lockdown and its effect on the music industry hasn't impacted Akuma's lifestyle in ways you might expect. The whole affair did not bother him that much. "Yes, a couple of shows got cancelled, but I've always been someone who adapts quickly. I just saw it for what it was (to me at least): more available time in the studio. I took the opportunity with both hands, and I've been making so much new music". Currently, the man is spending most of that in the TRIX studios in Antwerp, as he was selected as their latest Artist in Residence.
Even before the lockdown, releasing his debut album ('dirtytwominus') was Akuma's number one priority. He ensures that it will feature classic Akuma stuff, as well as tracks that are uncharted territory. "The thing is, as I'm working towards a goal, I always see there are other things I could do, things I could have never imagined I'd be doing. At the moment, all my efforts are channelled towards releasing this album, but you know as well as I do that I'll come up with other stuff as soon as it drops".
Image by Lucas Heirbaut 
---